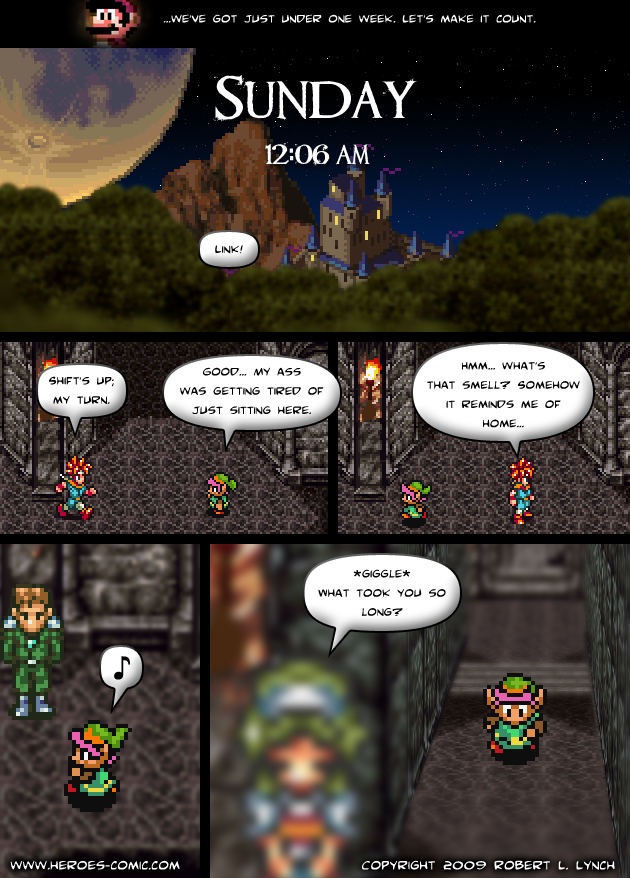 Ladies love link.
—
I'M BACK, BITCHES!!!
After a long absence, I'm back to the sprite comicking game. And to celebrate, YOU GET NEW COMICS EVERY DAY THIS WEEK!!! OMGWTFBBQ! Looking at my old sporadic update schedule, that's like 2 months worth of comics in a week! Check back every day this week for new pages, and then it's back to Monday, Wednesday, and Friday.
Anywho, a little explanation on my absence: I'm lazy. Well, you already know that much, but I'm also working full time at a merchandising company with an actual honest-to-god graphic design job. So, combine the stress of moving and all that entails, plus adjusting to a new job, added on top of my natural lazy tendencies (plus I have no internet at my new place so I usually couldn't see your cries for new comics) and you have a recipe for missing updates.
On another note, I'm trying my hand at a little serious literary composition, and I'd love any input you may have on a work in progress of mine: The Gardner File: The True Story of the North Pointe Incident. It's a mock documentary presented in the form of a series of discovered documents. If you have a few minutes and aren't scared off by a little TL:DR, read it and let me know what you think.