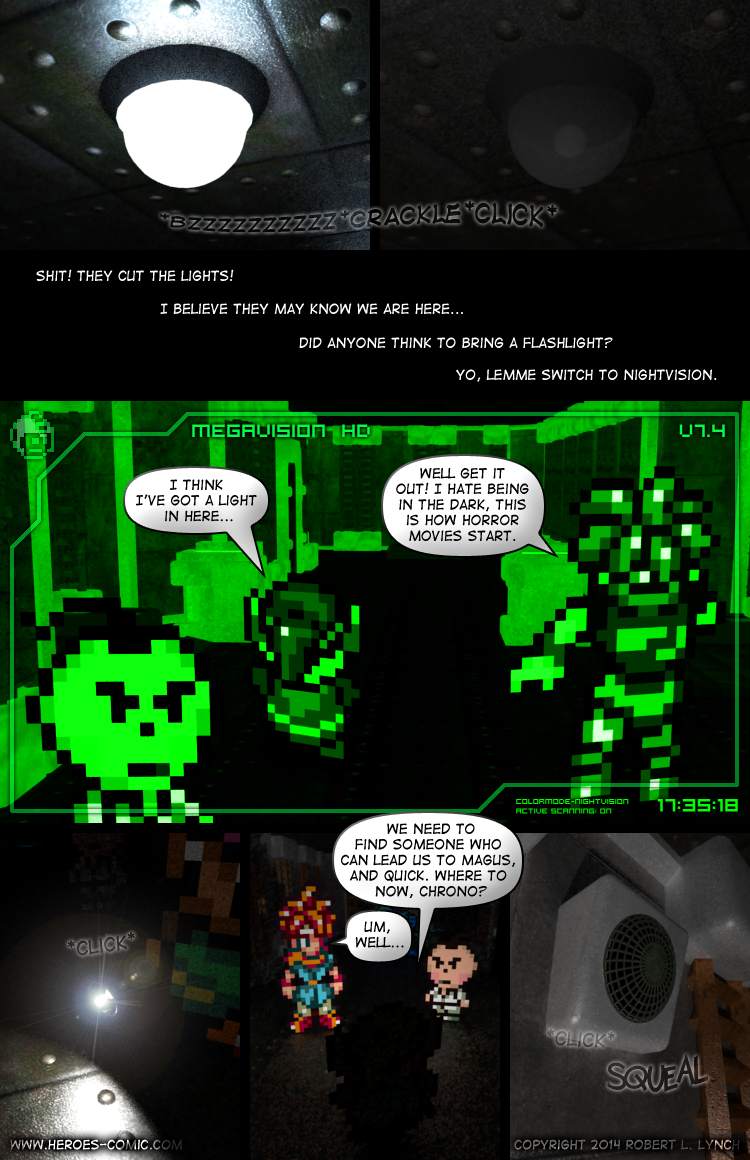 Merry (belated) Christmas to those who celebrate! Hope your holidays are going well.
So here's the thing I'm thinking about at the moment:
Having not been updated for about two and a half years, this comic has seen a bit of a drop-off in readership since its peak around 2008. Additionally, "a bit" is something of an understatement. While it's true HI was never a huge hit on par with 8BT or B&G, the site had monthly traffic averaging just under 30,000 unique visitors monthly, which isn't bad, all things considered. Right now, if projections hold, it might hit 4,000 for December. The traffic peak of 2008 happened around the time of Chapter 3 (the Church of Corey and Hyrule arcs), so while it was a good comic at the time, I don't feel that it was as good as it is now that I've grown as an artist and writer. I feel like I've disappointed those 30,000 unique visitors by not letting them see the story unfold.
So what I'm working on right now is some ideas to, if nothing else, bring traffic back up to its previous levels, but hopefully to surpass that by a decent margin. The biggest thing I'm doing to help that is the newly-regular updates that were missing for a few years. However, that alone won't be enough, so I'm working on ways to share the comic as widely as possible, for as cheap as possible. First, there's that big share button at the bottom of every post that you're all strongly encouraged to use. There's not really any way to measure the usage of it, so I'll just have to go by the honor system and hope you're using it. Some of you are already fans of Heroes Inc. on Facebook which is great (though I'd love to see more of you sharing the new comic links I post there). Same with my twitter feed, to which I'm also posting links. As soon as I can figure out my old passwords, I'm going to update info for voting on the topsites like topwebcomics and the webcomic list, maybe see if I can find a few others since killboredom, onlinecomics.net, and hotwebcomics all disappeared sometime during the hiatus. Something new I'm trying is posting the comics on the webcomics subreddit and submitting page links to digg.
Outside of the free social media stuff, I'm also planning on actually paying for ads. Nothing too expensive, but I've looked into it and I can run a short Facebook campaign for pretty cheap which would be able to target the potential audience fairly well thanks to all the user metrics they keep. I've also been researching heavily into Project Wonderful, which is basically designed for poor webcomic authors. For less than the cost of a 12-pack of Mountain Dew, I can advertise on a dozen sites for a month. Downside is that the inbound traffic I'd generate form the type of sites I could afford to advertise on wouldn't really account for much. I guess you get what you pay for in that regard.
So I'll end this rambling post with a question to you, my few loyal readers. Do you have any other great ideas I'm missing for getting the comic out there in front of new readers? Any suggestions for sites to advertise on that would be likely to have an overlapping audience? Should I just stand out beside the highway with a posterboard sign saying "read my comic"? Leave your thoughts in the comments.